MUSKITA is nominated for the Energy Globe Award
MUSKITA Aluminium Industries has been nominated for the Energy Globe Award, the most prestigious international environmental award, for the installation of the largest 2.5 MW Photovoltaic Roof Plant in Cyprus.
MUSKITA's 2.5 MW Photovoltaic Roof Plant, aims to reduce the energy consumption and carbon footprint of the state-of-the-art, vertically integrated aluminium extrusion and finishing factory under its roof. The photovoltaic plant is composed of 6750 solar panels, covers an area of 13,500 m² and contributes to approximately 30% of the factory's energy needs, reducing MUSKITA's CO2 emissions by 2500 tonnes annually.
The Energy Globe Award is the world's most important environmental award, with more than 180 participating countries, presenting solutions for a sustainable and liveable future. The goal of the Award is to champion the recognition and promotion of innovative solutions and business models from across the globe to address the dual objectives of shared prosperity and safeguarding the environment. The Energy Globe Award annually presents outstanding and sustainable projects that have been successfully implemented in all participating countries on a national and international level.
With over 60 years of experience, MUSKITA has a long history of social impact, delivering results to the community through various donations, fundraising efforts, educational programmes and environmental initiatives. "Go Blue by MUSKITA" is the company's environmental initiative, with mission to raise awareness and action on environmental protection and sustainability, encompassing amongst many other activities, the company's installation of the 2.5 MW Photovoltaic Roof Plant. Commenting on the nomination, MUSKITA's Marketing Manager Ms. Anna Mouskis stated "we are honoured to be nominated as a best practice solution on a global scale, for our photovoltaic roof plant. As the first privately funded, photovoltaic roof park for industrial use in Cyprus, MUSKITA's investment leads by example, illustrating the economic viability of the project, while supporting our company and country's goals towards a more sustainable future".
MUSKITA is an innovator in the design and manufacture of aluminium products, profiles and architectural systems. As one of the most technologically advanced industries of its kind worldwide, the company holds over 1000 patents and industrial designs. Excellence in engineering, combined with vertically integrated production facilities in Cyprus, allow MUSKITA to offer aluminium systems and customized solutions which are used across industries, worldwide such as aluminium windows & doors, thermal aluminium systems and curtain wall systems used in construction, to profiles used in industries as diverse as agriculture, aerospace and pharmaceuticals.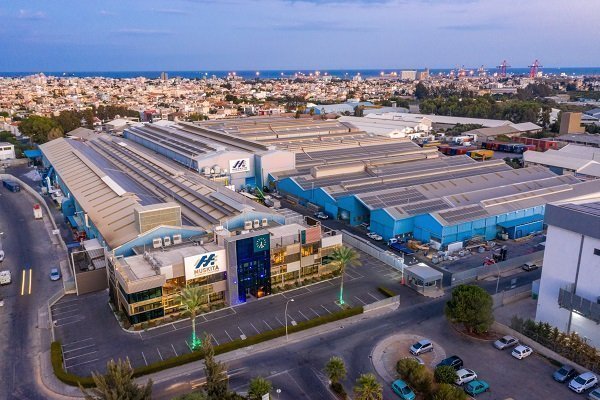 December 11, 2020