Pivot Door – the architectural trend in aluminium doors
Pivot Door – the latest architectural trend in aluminium doors guaranteed to make a stunning first impression
Whether for a new building or a renovation, the entrance door is a principal design point in any home.
Pivot or Aller Retour entrance doors are characterized by their "pivot" mechanism that allows the sash to rotate around an axis, providing an exceptional design aesthetic for a stunning first impression. These aluminium systems offer an ideal solution for oversized door openings, as they are engineered for heavy doors and are capable of supporting much more weight than traditional hinges.
Pivot and Aller Retour doors are becoming more popular in residential and commercial architecture, offering multiple design options as they can be fitted with glass, aluminium or other materials.
Systems MU2075 Pivot & Aller Retour respond perfectly to the needs of modern architecture, creating striking large-scale entrance doors, featuring elegant linear and sleek design. Their innovative engineering, coupled with state-of-the-art accessories and hardware, deliver exceptional quality, unparalleled safety and excellent thermal insulation while still maintaining the system's versatility and functionality.
In addition to heavy-duty locking hardware, aluminium entrance doors are further compatible with specialized locking mechanisms such as biometric locking, fingerprint recognition, keypad, card as well as anti-burglar hardware for even more security.
Defined by its sculptural composition, the impressive private residence Well 58 is sure to capture your imagination, beautifully demonstrated the architectural potential of pivot doors. The unpainted concrete walls of the house, as well as the presence of indoor greenery, and large windows, give the structure an earthy aesthetic, creating a modern and functional space with discreet details of luxury. A large glass pivot door facilitates the grand entrance to this stunning building. The vast openings created by hinged aluminium systems and MU2075 Pivot Door create a seamless connection with the outdoors, visually expanding the space to the outside forestry.
Discover our complete range of aluminium entrance doors that are sure to give your visitors a stylish welcome.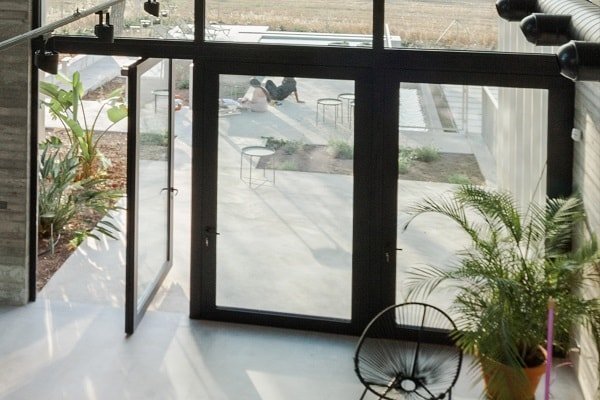 September 15, 2020