Exclusive Finishes. Timeless Elegance.
Anodize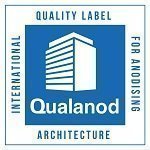 MUSKITA's anodized finishes are timeless.
We have been anodizing aluminium since 1965. Anodized products produced over half a century ago can still be found today maintaining their original finish virtually untouched by time - a testament to the quality, experience and expertise of MUSKITA's anodization process.
MUSKITA maintains and operates one of the most advanced anodizing plants worldwide utilizing state of the art robotic technology. Our vertically integrated production facilities combined with our in-house anodization process give us complete control over products quality, from raw materials to finished products, for outstanding results.
Our products are certified by the quality certification QUALANOD since 1996.